POINT CLOUD TECHNOLOGY, WHAT ARE THE ADVANTAGES?
POINT CLOUD TECHNOLOGY, WHAT ARE THE ADVANTAGES?
The application of new technologies in the construction industry is causing advanced digitization in many companies. The BIM environment is bringing great progress in quality, precision and productivity, and reporting interesting benefits. Somehow, in this BIM environment, the digital and real areas coexist as a single entity, and one of the connecting doors between the two worlds is the "point clouds".
What are point clouds?
A point cloud is a model made up of millions of points positioned three-dimensionally in space, generating a volume with millimetric precision. They are obtained by means of a three-dimensional laser scanner. They allow a detailed mapping of the physical space, with a reduction of time in data collection between 60 and 70%, originating a flexible access to this information.
This can:
Improve decision making
Increase efficiency
Allow flexible workflows.
Create 3D models and iterative design processes
These models make digital manipulation of physical space easy and efficient, you can even reinvent business models. Let's look at three key impacts of using point cloud technology in your business:
Data acquisition speed
Avoid interference
Reduce execution time
Cost reduction in data capture and analysis
Early detection of errors and interference
Avoid re-visits to the measurement site
Eliminates geometric position and shape errors (0.5 – 2mm accuracy)
3D installation is available for office design
Documentary quality: sections, 2D plans, reports …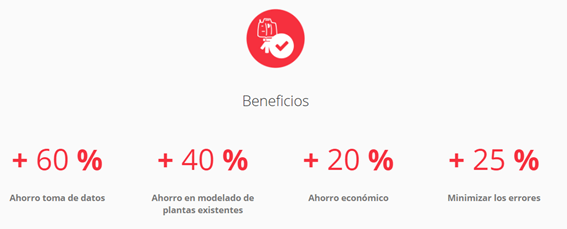 Applications.
The possibilities of point clouds are enormous: topography, certifications, site monitoring, rehabilitation, heritage, mining, complex facilities… At Grupotec we use this system, for example, for data collection in existing industrial facilities, prior to a remodeling or expansion intervention (industrial plants, engine rooms, wastewater treatment), or in cases of building rehabilitation.
The most significant advantage found by our teams is the ease of use from the first contact with the technology, and then the elimination of return visits to the facilities for data collection or consultations, location of equipment, specific measurements, etc.